Light-Headedness In Anorexics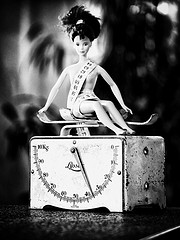 A Daily Challenge
As an anorexic
(back then), I suffered almost daily
from light-headedness.
It was so
uncomfortable.
Unknown to me then,
this could cause brain damage.
You see, your brain
takes three out of four parts of the glycogen or energy supplied by the food you eat.
That's why you feel a head ache, or light-headed
when you lack food in your system.
Imagine my not eating at all or eating very little
at best, daily, as an anorexic.
I had this challenge to the max and with
all the other anorexia issues.
But I consoled myself that my thinning-out quest
would be effected faster, the lighter I felt in my head.
Imagine the destructive assumption!
It made me feel even dizzy.
Couldn't just get up and go.
Quick, unplanned movements could easily
destabilize me resulting in loss of movement control.
It caused me poor body movement co-ordination.
How Did I Cope?
You might wonder how I
was able to follow
my exercise regimen.
This was easy because
I had programmed myself for it.
Nothing could stop me.
Moreover, it was done in
the privacy of my home.
My daily productivity at
work was low
because my head wouldn't give me what I wanted
and at the time I wanted it.
I lacked focus and wouldn't think through a matter
as required.
I was irritable, I mean,
volatile!
There's always a Solution! to
every adversity.
That's what I used.
Use the same and your head
and brain would bounce
back to give you
what you want, and when you want it.
You are welcome to this site.
Read, study and practice the helpful info you gather
from the site. It is fully loaded and free.
Again, you are welcome.
Light-Headedness to Anorexia Nervosa Effects
Return from Here to Learn About Eating Disorders Home Page